State-of-the-art Technology and Sustainability for a Perfect Sleep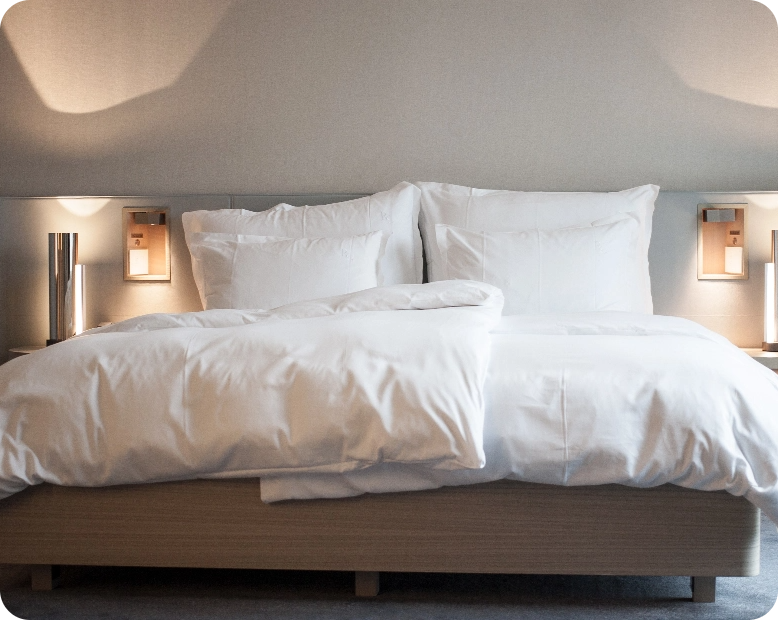 Sustainability is not just a token buzzword for us. As far as possible, we use exclusively all-natural products in the production of our high-quality bedding. Our raw materials come from animals, and we are aware of the responsibility that brings. We only use down from animals that have been reared in welfare-conscious conditions and offer a "Happy Geese" guarantee to support this. This means that you can rest assured that no geese had to suffer for your down bedding.
Quality Work Made in Austria
With our products, you know where they come from. Our comforters and pillows are handcrafted in the south of Lower Austria. This means that you receive genuine homegrown, handmade products. Our sewers create our comforters and pillows with expert knowledge and meticulous attention to detail. You can simply feel it! Our products are therefore an important element of the value creation chain in our home town. And to make sure that our employees never run out of down, we have a large down warehouse. This enables us to process even large orders without coming up against any supply shortages.
Handcrafted Production
Our production facility is one of the most advanced in Europe. We process around 1000 kg of feathers every day across two separate production lines. The feathers are washed, sterilized, sorted, mixed, and filled. At our factory, we combine the latest technology with traditional craftsmanship. The preparation and processing of the raw materials is carried out by means of automated, computer-controlled processes, but no machine in the world could ever replace our experienced, dedicated sewers. This means that you will receive bedding that is made by people, for people, with joy and meticulous attention to detail.
Innovative Products for a Good Night's Sleep
Our specially developed three-chamber pillows ensure a heavenly night's sleep. The ergonomic feather and down core provides optimum support for the neck and is topped with wonderfully soft down. The three-chamber pillow is available in three different firmness levels.
Quality products handmade in Austria – Seibersdorfer Bettfedern- und Daunenfabrik