Happy geese
Sleep in Harmony with Nature Thanks to the Seibersdorfer "Happy Geese" Guarantee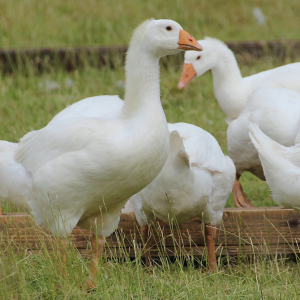 You can truly sleep well at night in our bedding. Sustainability and animal protection are our top priority.
We have chosen to provide this guarantee to you ourselves. We guarantee to you that the feathers and down used in our production come from geese that have been reared in welfare-conscious conditions on a farm in natural flocks alongside their mothers. The animals have been reared in a family unit and are properly fed from day one. We guarantee that no live plucking takes place!
The Company's Animal Protection and Environmental Certification
Our business is assessed and certified on a continuous basis, and we have achieved DIN CERTO accreditation. This guarantees that none of the feathers that we use are live-plucked. The certification body checks whether the standards are continuing to be met on a regular basis.
What's more, our products also boast the 'Traumpass DIN-geprüft' seal of approval. This label identifies products made using exclusively premium-quality down and feathers that do not come from living animals. It represents products that feature high-quality down and feathers.
Our products have also been awarded the OEKO-TEX ® Standard 100 certificate with its 'Confidence in Textiles' label. This label is the most well-known and widely used independent certification in the world for textiles tested for harmful substances.
---
Undisturbed Sleep – Even for Allergy Sufferers
Bedding from Seibersdorfer is also suitable for allergy sufferers. The NOMITE label indicates that the particular product is suitable for dust mite allergy sufferers. We provide further information on allergies on our website. Our employees are also available to assist with any questions you may have about allergies and bedding.